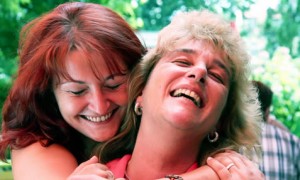 Exactly 10 years ago, in November 2003, 16 people from all over the world came together for the very first community weekend in Germany.
The event resulted from the idea to invite our personal HAI friends over from England, the Netherlands and the US to spend a nice weekend together. And, above all, not having to travel anywhere for once.
That weekend, the idea was born to try and organise a HAI workshop in Germany – in English with German translation. Back then, we were very skeptical if something like that could even work out. But we decided to try it and invite our friends.
The first HAI Level 1 on Whitsun weekend 2004 originated from that. 10 years have passed and about 500 people have since taken part in our events. The Hand on Heart e.V. association was established, which now develops its own workshop formats and offers twelve events in 2014.
Some participants only dipped into the workshops once, others are involed on and off, and a considerable number of people is enthusiastic about this work. They are actively involved, collaborate and contributes new ideas and initiatives. Local support groups were founded in Frankfurt, Köln/Bonn, Münster and Groningen and are led by local people.
In fact, Hand on Heart e.V. only provides the framework – the variety and liveliness comes from the very people who wholeheartedly engage in what they themselves have created. An international community, self-determined, open, warm, imaginative –without obligations, yet taking care of each other. Last but not least, many deep friendships were formed. And a few marriages and relationships.
If all this is not a cause for celebration – I don't know what would be.
With love – and a little pride
Mikki